History
For more than forty years Pan-American Missions, founded by Claude and Esther Cook, has been obedient to God's call to "preach the good news to the people" in Southern Mexico and parts of Guatemala. The Mission in interdenominational and supports a thriving ministry in Puerto Madero, Chiapas.
Pan-American Missions has directly planted the three largest churches in Puerto Madero: Emmanuel Church, the First Baptist Church and the First Nazarene Church. Puerto Madero is located in Chiapas, Mexico's poorest state (You may also hear it called "Puerto Chiapas, or San Benito.) The population is between 12,000 and 15,000. The average education level is 6th grade and daily wages are about $3-5. There are about 85 nightclubs and brothels in the town. There are also 10 churches, most of which have been either directly planted by Pan-American Missions or started by members of a Pan-American Missions' church plant.
Pan-American Missions' home provides compassionate ministries, including supplying people in need with clothing, eyeglasses, shoes, school supplies, Bibles and Christian literature. It provides shelter and spiritual support for people and families who need help, hosts prayer retreats and camps, and helps young people and churches purchase music equipment to further their ministry.
Emmanuel Church, home to 100 members, was born on Pan-American Missions' home grounds. Pan-American Missions supports evangelism activities at Emmanuel Church with Bibles and Christian literature. It also supports a weekly children's breakfast ministry and school supply outreach, and hosts music ministry workshops promoting spiritual development in the lives of music ministers.
Claude Cook past away in January of 2002. It is of blessing to his wife, Esther Cook, their daughter Ana Elizabeth, and their son, Charlie Cook and his family to carry on these ministries through Pan-American Missions in the Southern tip of the state of Chiapas.  Causing an impact in hundreds of people's lives, reflecting the love of Christ and transforming lives because of it, is worth every effort, and every sacrifice.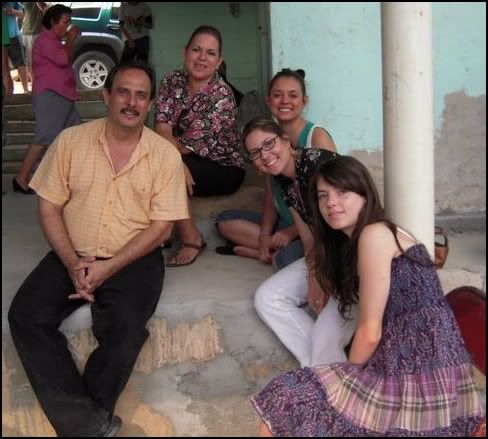 Charlie, Miriam, Stacy, Steffany & Emily Cook
Please consider partnering with us in this thriving ministry in Chiapas, Mexico through Pan-American Missions.